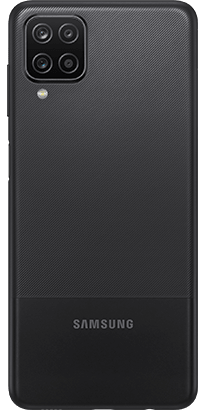 ---
Connecting with the people and things you love is essential. So is keeping those memories close at hand. Galaxy A12 gives you our sought-after multicamera system at a fraction of the price, along with expandable storage to fit all of your favorite memories. With a long‑lasting battery that charges up quickly, a beautifully vivid display and a processor you can count on, Galaxy A12 is here to help you capture the awesome in the everyday.
*This phone has been tested and rated for use with hearing aids for some of the wireless technologies that it uses. However, there may be some newer wireless technologies used in this phone that have not been tested yet for use with hearing aids. It is important to try the different features of this phone thoroughly and in different locations, using your hearing aid or cochlear implant, to determine if you hear any interfering noise. For more detailed information, click here, consult your service provider or the manufacturer, or visit Gari.info.
If you have questions about return or exchange policies, consult your service provider or phone retailer. To learn more about wireless hearing aid compatibility rules and service providers' obligations, click here.
*Color and size subject to availability.